Everything on model trains, model railroads, model railways, locomotives, model train layouts, scenery, wiring, DCC and more. Enjoy the world's best hobby... model railroading!
Burlington Northern Locomotive #6318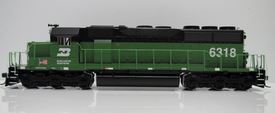 Joe asks for parts stockists details:
"Help! I purchased several HO cars & locomotives 30 years ago for my son. Now my grandson wants to play with the old set. I'm trying to find (2) 6 wheel trucks for a Burlington Northern #6318 locomotive. I can't find anything in the internet pertaining to this locomotive. Can anyone help? Thanks."
If you are able to point Joe in the direction of a supplier that would be great. As this is not a Buy/Sell or Swap forum, the Blog rules do not permit the exchange of personal contact details. This is to protect both the person posting a question and anyone answering a question. Regrettably there are people and software searching the internet for personal contacts.

3 Responses to Burlington Northern Locomotive #6318