Everything on model trains, model railroads, model railways, locomotives, model train layouts, scenery, wiring, DCC and more. Enjoy the world's best hobby... model railroading!
Amazing Dioramas Instead of A Model Railroad
Gary from Alberta in Canada sent in these photos to share:

I'm not planning to build a large train layout, as I would prefer to build very detailed dioramas instead, mainly because I model in several different gauges…HO, Hon3, Hon30, On30 and G scale. Attached are some photos of some dioramas I've completed in HO and Hon30 scale.  One of the photos shows a very small diorama on a black turntable. The size of the model is 4″ x 6″ (10.16cm x 15.24cm) and is in Hon30 scale.  It was a challenge to the members of our club to build a scene on a block of wood that size.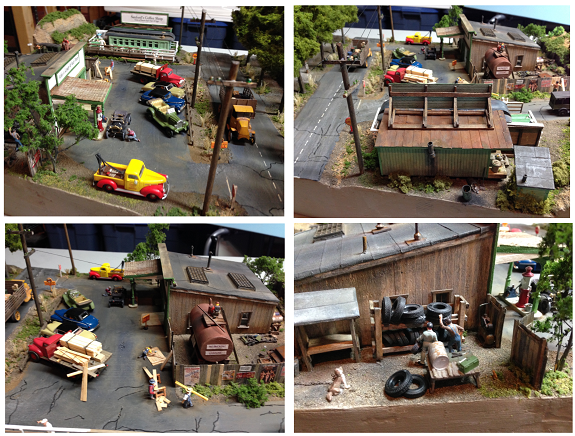 I also built an HO scale diorama that had nothing to do with model trains.  It was of a turn-of-the-century house that was constructed to fit into an enclosed case.  It was built as a wedding present for my granddaughter, who lives in Melbourne, Australia.  My wife and flew down there for the wedding in November and had to hand carry the diorama from Calgary, to Melbourne, via Los Angeles.  I had to wrap it to fully protect it, and still be able to open it up for security and customs checks. Thankfully, I was able to get it to the wedding in one piece.
Gary – I couldn't open the file you sent with captions, so perhaps you could add some comments using the COMMENTS link under this posting.
14 Responses to Amazing Dioramas Instead of A Model Railroad