Everything on model trains, model railroads, model railways, locomotives, model train layouts, scenery, wiring, DCC and more. Enjoy the world's best hobby... model railroading!
Switch Machine For Shinohara Double Crossover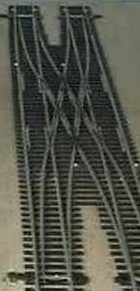 Lou is planning a double crossover and posts this question:
"I am planning to install an HO Shinohara double crossover on my system. The tracks sit on 1/2″ plywood base board and cork road bed. Although all my rolling stock runs on DCC all the switches run on DC.
My question is what make and model switch machine will work best mounted under the base board? Do I need 4 switch machines or can I get away with less if some how ganging them up to operate the turnouts?"
6 Responses to Switch Machine For Shinohara Double Crossover