Everything on model trains, model railroads, model railways, locomotives, model train layouts, scenery, wiring, DCC and more. Enjoy the world's best hobby... model railroading!
Search Railroading Words – New Word Search Puzzle
The feedback from the crossword puzzle on the blog a couple of weeks ago has been very encouraging with many requests for more puzzles. Here's our first Word Search puzzle with some words that model railroaders might use.
If you would like to download the puzzle and print it out you can do so HERE. There is also a link to view or print out the solutions on the same web page.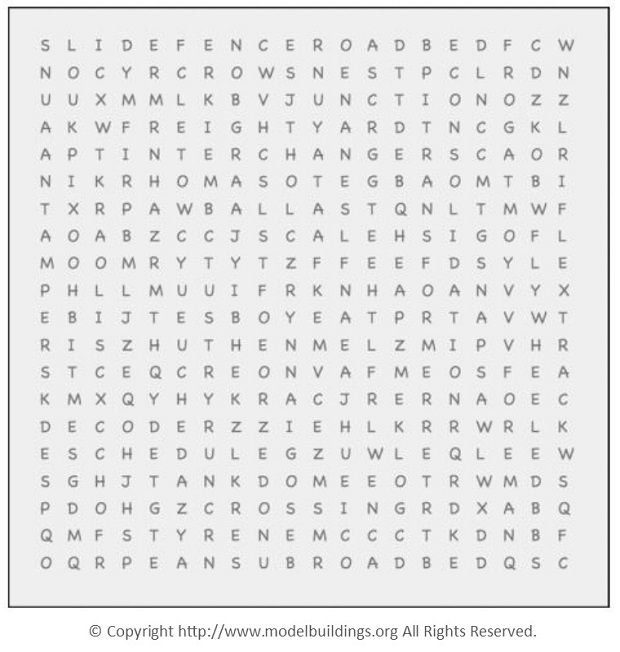 Find these words:
AIR BRUSH, CAB, DECODER, FREIGHTYARD, JUNCTION, SCALE, SNAP SAW, TANK DOME
AMMETER, CONSOLIDATION, FLEXTRACK, FROG, MARKER, SCHEDULE, STYRENE, TRACTION
BALLAST, CROSSING, FLYWHEEL, HOMASOTE, REEFER, SLIDE, SUBROADBED, TRANSFORMER
BENCHWORK, CROWS NEST, FOREMAN, INTERCHANGE, ROADBED, FENCE, TAMPER
Print out puzzle and answers at http://www.modelbuildings.org/Puzzle-4-word-search.html
If you would like to see more puzzles like this on the blog, please let me know by commenting under this post.
One Response to Search Railroading Words – New Word Search Puzzle