Everything on model trains, model railroads, model railways, locomotives, model train layouts, scenery, wiring, DCC and more. Enjoy the world's best hobby... model railroading!
NEW! Extendable, Adaptable Plans For Photo Realistic Scale Model Backdrop Buildings Now Available
Here's an easy way to effectively extend the background scene behind a rail yard without spending a fortune on plastic models. The two red and gray brick buildings seen below can be constructed to resemble the images on the left, or you can extend the width of the buildings by just printing out another copy of the full color plans. You won't need to download the plans a second time… you just print out a second or third copy to extend the building out as far as you want. The designs can even be combined to use a mix of red and gray brickwork (as seen in the third image below).
Foamboard or corflute is the best construction material as it is cheap to buy in large sheets, and is very sturdy. Otherwise you could use card from an old cereal box (maybe double the thickness). Thin strips of balsa or even plastic power ties can be painted gray to add extra detailing if required. They look very authentic when constructed.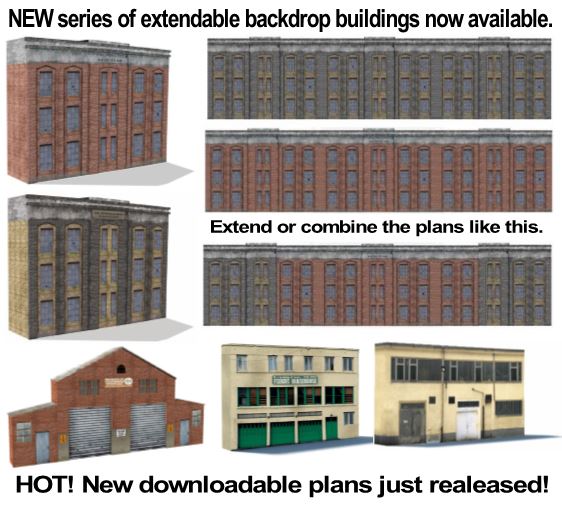 Downloadable plans for the buildings in this new series can be purchased separately, or if you want to save some money, combination packs of several buildings are currently available on the website at a discounted price. Full details here http://www.modelbuildings.org/Pack-K-Industries-Backdrop-Structures.html