Everything on model trains, model railroads, model railways, locomotives, model train layouts, scenery, wiring, DCC and more. Enjoy the world's best hobby... model railroading!
Using Hard or Soft Pastels for Weathering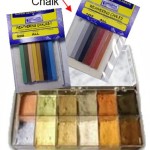 Gordon asks readers:
"I looking at buying some pastels for weathering and I saw some advertised as soft acrylic pastics, some are described as hard pastels and some say chalk. I'm just not sure which is best for weathering plastic, wood, and card buildings and the track. I've also heard that people apply Dullcoat first so the pastels have some to grip to. Is that right, or would a simple paint base coat do the same?"
If you have a question you would like published, then please use one of the links below each posting to view the guidelines. Then submit your carefully worded question to the Blog Moderator for consideration.
2 Responses to Using Hard or Soft Pastels for Weathering