Everything on model trains, model railroads, model railways, locomotives, model train layouts, scenery, wiring, DCC and more. Enjoy the world's best hobby... model railroading!
Building a Train Layout Around The Christmas Tree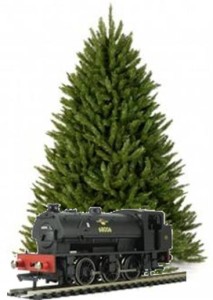 Errhe sent in this question for readers:
"Please help me if you can. My wife wants me to build a small Christmas train around our tree. I agreed to do it but with a couple of conditions: I want one that has a circular track around the tree attached to a larger oval where I can build a little village – so I figured I needed a couple of switches.  And I do not want some cheap, noisy, battery powered, train. I want  a train where the track provides the power. This is because when I was little my friend had a train with a missile car the you could stop over a certain place on the track. The first button press opened the top of the rail car and elevated a missile, and then the second press of the button fired the missile. In always thought that was the coolest part of his track.
Anyway I want to start building a model track and village. I want it to be expandable later, and i want it to run on a powered track, not a engine full of batteries. But when I started looking for parts, I realized I really need more information before I start designing and buying pieces.
Almost all the store trains I see, are battery powered and come with a simple circle track. I want to design on am own track layout and use a variable speed control.
My other problem, of course, is my lack of know knowledge regarding scale size. Do I need gauge G, O,  SO or something else? I don't want to get a scale that is dying out with limited future options. I want to be able to expand on my train in the future.
Yes, I am new to the model train building hobby, but I love working with my hands and I have created many pieces of furniture with beautiful finishes that my wife loves.
If anyone with a passion for trains can help me learn a little, I would be very grateful. It's more than a simple model, it is a handmade gift to my loving wife and she deserves to best.
Thank you for any knowledge and help you can pass on to me."
11 Responses to Building a Train Layout Around The Christmas Tree