Everything on model trains, model railroads, model railways, locomotives, model train layouts, scenery, wiring, DCC and more. Enjoy the world's best hobby... model railroading!
2 Responses to Repairing a Transformer
Use Tiny Railroad Micro Controllers
A micro controller is basically a small programmable computer device to help hobbyists "make things operate." It is clever way to realistically replicate the movements, actions and functions you are likely to see on a full size railroad.
Micro control technology can be used for:
Rolling stock and scenic lighting effects, street lamp lighting, lighting up of structures, emergency vehicle flashing lights, replicating a campfire or arc welding, tall structure tower lighting, block occupancy detection, turnout operation, motors/servos, solenoid, infrared, right-of-way signal lighting, current sense, crossing gate & signal operation, semaphores, flashers, turntable control, gate arms, draw/lift bridge control, fast time clock, DCC testing, scenery sound control, wireless controls, and lighting fixture day to night control.
Read more...
The good thing is; a micro controller can be programmed to perform one, or just a few, simple tasks over and over again.
Why DCC is so popular
A simple DC (Direct Current) transformer will give you a nice chugging locomotive going one way on your model train track, however, with a DCC unit you can have the flexibility of having an entire train-switching yard happening right in front of your eyes! That is the adaptability that is available with this coming-of-age technology in the hobby!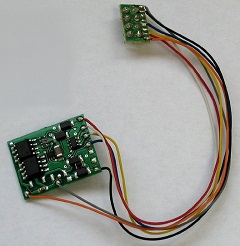 By using the Digital Command Control, you are opening up a whole new range of possibilities. A continuous electrical current is sent to all of the many things you have installed on your train layout, however, now you have a digital receiver installed in each various items. You can therefore control each and every one of them with the selectable controller and enhance the operation and, more importantly, the look and feel of your system.
The technical side of the DCC is, actually, not as complicated as you might think. In reality, a DCC system is usually easier to wire than a straight DC system.
More dcc ideas...
SUBMIT YOUR QUESTION
Submit Your Model Railroading Questions!
Before you submit your model railroading question please add some feedback, answers or comments to other postings on this model train blog. What goes around comes around... so if you can help others in the hobby, someone else may help you.
Important - Please add plenty of supporting details to any question you submit (eg. scale, solutions you have already tried etc.) , as the clearest and best questions usually get the best answers. Also, please check your spelling and punctuation as all questions need to be approved by the blog moderator prior to publication. Approved questions are normally published within a week (if not sooner).
Submit Your Article
Would you like to write an article and have it published?
Preference will be given to articles that help others progress in the hobby, maybe suggesting an idea for their layout, a quick tip or two... or perhaps a little bit of good advice based on your model railroading experiences.
We are all in this hobby together, so the more we can do to share ideas and help each other, the better.
Deciding the Era and Location
The choice of scenery you decide on all depends on what era and location you are depicting with your layout. You will need to do some good research on the railroad and its surroundings to make sure you get the scenery perfect (if that's what you want).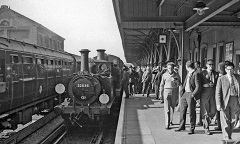 If you are depicting a historical train setting or a certain era, you will want to use old photographs to determine how the scenery should be built and laid out. Remember to think through all aspects of the scenery. This is one of the best areas to really showcase your talents, so take your time.
More scenery ideas...
It's YOUR Railroad!
Your rolling stock and locomotives might actually be the center of attention on your layout, but the scenic features that surround and envelop your layout is what's likely to make your train setup stand proud of the rest. Your selection of scenery and structures will add an element of customization that will make your railroad truly unique.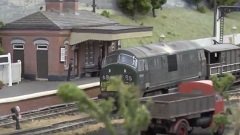 Scenery, structures, and fine detailing is a fundamental aspect of any good model railroad, particularly if it is intended to replicate a true-to-life railroading scene. How realistic or authentic you make your railroad is entirely up to you... and you alone.
Some enthusiasts like to replicate every tiny detail so as to accurately depict, in every aspect, a miniaturized version of a real life scene.
Others in this hobby adopt a more "free-style" approach and choose to mix and match accessories and features they personally prefer. Even though the purist will possibly be unimpressed with unrealistic or out of context elements, it is YOUR railroad layout so you can make it anything you personally want!
Model Railroading Blog Archive
Reader Poll
Sorry, there are no polls available at the moment.