Everything on model trains, model railroads, model railways, locomotives, model train layouts, scenery, wiring, DCC and more. Enjoy the world's best hobby... model railroading!
Those Were The Days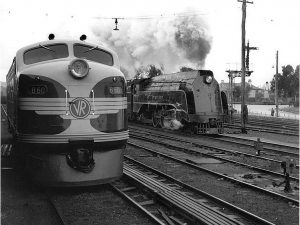 Victoria, Australia 1952. Victorian Railways new diesel electric B 60 locomotive being delivered to Melbourne passes one of the S class 'Pacific' steam locomotives it eventually replaced.
The B class were the first mainline diesel locomotives and were used for both passenger and freight services.
The design was based around the successful Electro Motive Diesel F-unit locomotives with a distinctive bulldog nose. They featured a streamlined drivers cab at each end.
2 Responses to Those Were The Days