Everything on model trains, model railroads, model railways, locomotives, model train layouts, scenery, wiring, DCC and more. Enjoy the world's best hobby... model railroading!
Rubber-Tired Metro Trains part of Taiwan's Rapid Transit System
Many readers who were guessing the answers to the two mystery rail yard photos recently posted on this Blog were surprised to learn that mystery photo #2 was taken in Taiwan (mystery photo #1 was at Seoul Station in South Korea). Taiwan's greenery and mountains in the mystery photo #2 came as a surprise to many who thought the photo was captured in Europe, South America, Japan, or maybe New Zealand. Not so; Taiwan is generally very green with the main population hubs concentrated in a few big cities.
The big city of Taipei in the North has an extensive and very efficient mass transit metro system that reaches out in all directions including a direct line from Taipei's Main Station to the main international airport – Taoyuan International Airport. You can get your boarding pass and check your bag in at Taipei Main Metro Station and board the train for the airport which saves a lot of time at the airport end.
Most of the Taipei metro system is underground, but the Brown Line which operates from Taipei Nangang Exhibition Center to Taipei Zoo operates above street level on rubber tires (tyres in British English).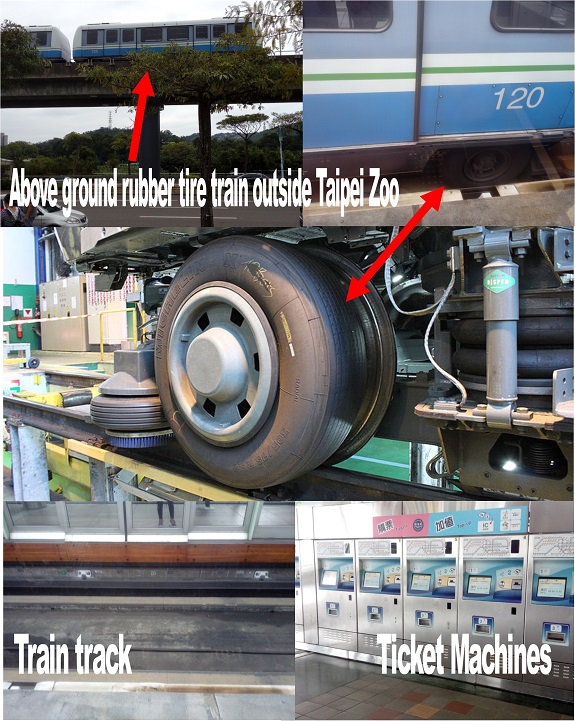 The Taipei Brown Line opened in 1996 and is not the only train line in the world to run on rubber tires. There are many other examples. The rubber tires on the cars run on rolling pads inside guide bars for improved traction.
The Brown Line in Taipei stretches 15.6 miles (25.1 kilometers) servicing 24 stations across 7 districts in Taipei of which 22 of the train stations are elevated above street level and 2 are underground. As of Sept 2011, Taipei's  Brown Line, with it's driver-less trains, transported on average of 180,000 passengers daily, although this figure has likely increased somewhat since then.
2 Responses to Rubber-Tired Metro Trains part of Taiwan's Rapid Transit System