Everything on model trains, model railroads, model railways, locomotives, model train layouts, scenery, wiring, DCC and more. Enjoy the world's best hobby... model railroading!
Walthers Cornerstone Motorized 130′ Turntable Not Working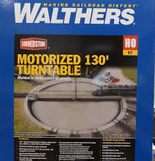 Wayne would like help with this problem:
"I have a fault issue, when I try to turn my non DCC 130ft Walthers turntable, it only moves about an inch then stops. I can then move it about an inch in the opposite direction. This happens when the turntable is placed on the pit in any position. It doesn't appear to be jamming and I have cleaned the terminals. There doesn't appear to be any broken wires.  The turntable worked okay the previous day.  Can you please help me?   Regards  Wayne"
Comment below.
3 Responses to Walthers Cornerstone Motorized 130′ Turntable Not Working