Everything on model trains, model railroads, model railways, locomotives, model train layouts, scenery, wiring, DCC and more. Enjoy the world's best hobby... model railroading!
How To Scale Model Buildings To Provide Realistic Perspective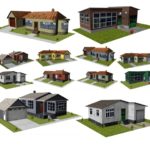 For scale model buildings that are seen as up-close or positioned in the foreground they need to be seen at 100% size. If the model buildings are 100 – 500 yards (90 – 450 meters) away then the model building plans be reduced to 90% to 100% of the downloaded size to give real illusion of distance. If the model railroad buildings are supposed to be ¼ or up to ½ mile away then the models could be reduced to approx. 80% to 90% of the full size of the PDF. Buildings that need to appear to be a mile or two away could be 30% – 50% of the full PDF size. Understandably these sizes are a guide only.
So if for example; if an N gauge building is 5 inches (13 cm) tall close-up, it would need to be 4 inches to 4½ inches (10cm to 11.5cm) tall if it was positioned ¼ – ½ mile away.
That's one of the huge advantages of downloading PDF plans of structures – they can easily be scaled down to a smaller size. Download a free catalog at https://www.modelbuildings.org
One Response to How To Scale Model Buildings To Provide Realistic Perspective