Everything on model trains, model railroads, model railways, locomotives, model train layouts, scenery, wiring, DCC and more. Enjoy the world's best hobby... model railroading!
Adhesives For Sticking Down Plastic Model People and Animals – The Dilemma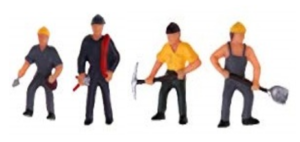 Max asks everyone:
"I've heard Elmer's white glue is good for laying down the track with ballast. Problem is it takes some time to properly set hard if using it for other purposes. For gluing plastic model figurines in place it's hopeless. They inevitably fall over. Does one of your members know of a hobby adhesive that will dry and set hard quickly and one that is useful for sticking plastic model figures to the ground?"
Have your question published. See below.
11 Responses to Adhesives For Sticking Down Plastic Model People and Animals – The Dilemma