Everything on model trains, model railroads, model railways, locomotives, model train layouts, scenery, wiring, DCC and more. Enjoy the world's best hobby... model railroading!
Opinions on Instant Roadbed Please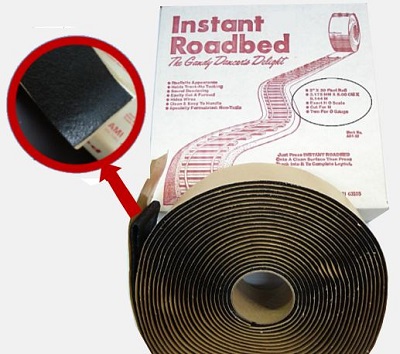 Ryan has this question:
"I was told about a product called Instant Roadbed, and wondered if it is any good? No glue is needed as it has self adhesive backing, but I was wondering how long this would last? I was told you just lay track and ballast on top and that both can be removed if needed without wrecking things. This sounds good, but I question if the the Instant Roadbed tape might start lifting over time? It does interest me because it sounds easy and less messy and quicker than other methods, but I don't want to lay my track and ballast with the stuff only to regret it. I guess I could use it for making roads, and sidewalks too? Has anyone used it with success or otherwise?"
Send your question in for publication. See the link below.
6 Responses to Opinions on Instant Roadbed Please