Everything on model trains, model railroads, model railways, locomotives, model train layouts, scenery, wiring, DCC and more. Enjoy the world's best hobby... model railroading!
Becoming Absorbed In Your Own Model Railroad Is A Great Way To Mentally Escape From The Real World Reality Facing Us All Right Now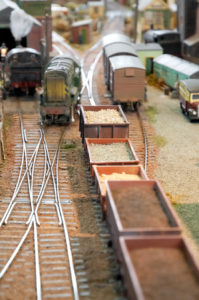 While it might not be possible to jump aboard the next plane to a tropical island-getaway, there are numerous ways to mentally escape from reality. Becoming absorbed working on, or operating, your own model railroad is a perfect way to achieve this if you are fortunate enough to have your own layout.
We all need an escape from reality once in awhile, and right now is probably a good time for us all to try an de-stress and take our minds off the worries of the world, even if it is just for an hour or two.
The hands-on world of model railroading is indeed a special experience and the perfect way to immerse yourself in a creative outlet. Truly escaping reality using your mind is easier for some than for others, but achieving a sense of calm (and distraction) can be a great way to feel reinvigorated and able to cope with anything that life may throw at you.
It doesn't seem to matter whether you're a spring chicken, an old rooster… or somewhere in between. The personal satisfaction of building and operating a realistic miniature world (real or fantasy) is rewarding and absorbing fun… no matter what age you are. Model railroading is a truly rewarding leisure activity that will keep you busy, entertained, absorbed, and mentally insulated from the worries of the world for hours on end. That's not to say we should completely ignore the realities of the real world, but we are all entitled to rest and reinvigorate our minds with a little escapism from time to time.
Our thoughts and prays go out to all those who have suffered (and will suffer) from the dreadful outcomes of the COVID-19 virus that is impacting the world we share. Take care!
10 Responses to Becoming Absorbed In Your Own Model Railroad Is A Great Way To Mentally Escape From The Real World Reality Facing Us All Right Now