Everything on model trains, model railroads, model railways, locomotives, model train layouts, scenery, wiring, DCC and more. Enjoy the world's best hobby... model railroading!
NCE 0010 Pro Cab Deluxe Master Cab Handheld Remote and Bachmann 66801 HO Scale EMD GP38 2 DCC Santa Fe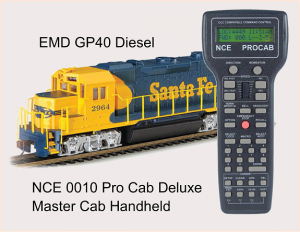 Newbie Martin is looking at HO scale and asks:
"Just starting off I will build two tracks code 100 seems the most commonly available? I like the look of the Bachmann 66801 HO Scale EMD GP38 2 DCC Santa Fe, so might make it my first engine. Tell me if there's something more suitable.
My plan is to operate DCC for engines, accessories, lighting, etc. I presume a wireless throttle is the way to go? I haven't committed to buy anything or any particular make yet, so would appreciate any suggestions? I noticed several ads for the NCE Pro Cab – any good? A lot of questions I know, but I am just trying to get my head around things before committing."
Add your own comment or suggestion to assist Martin with his project. See the COMMENTS link below.
6 Responses to NCE 0010 Pro Cab Deluxe Master Cab Handheld Remote and Bachmann 66801 HO Scale EMD GP38 2 DCC Santa Fe