Everything on model trains, model railroads, model railways, locomotives, model train layouts, scenery, wiring, DCC and more. Enjoy the world's best hobby... model railroading!
What Causes Scale Model Trains To Derail
Bill sent in these thoughts to share:
I find that derailments can happen if cars are not properly weighted to NMRA standards. For example, if you have an underweight car between properly or overweight cars on either side and a dirty section of track causes the pulling and or pushing locomotive to stop and lunge and thus the varying momentum of rolling stock, caused by this weight issue, can result in derailment.
Long standard gauge coaches running on a layout built for mountain climbing tight radius "Mine" trains with relatively short rolling stock can cause derailments.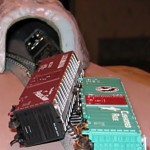 Improper truck adjustment. From my experiences both trucks should swivel with one having less play than the other. Failure to maintain these and you are inviting problems.
Proper height adjustment of couplers. Again I am reminded of problems I have had with coupler "pins" catching on turnout points, resulting in….derailments.
The reason I know about all these issues is because I have at one time or another, ran into these issues. So I mention them from first hand experience and am still learning from my mistakes.
I have also found that even after all my learning mistakes, I am still not done.
I am reminded now about several Labelle boxcars (which are constructed of basswood without any weight to them), that I had built to NMRA standards, gluing weights from end to end and right down the center of the wood floors. Initially they all ran great and then I started having derailment problems. After several attempts of trying to duplicate the issue, it came down to one particular car. Intermittently the weights were sliding off to one side around certain curved track sections causing the car to lean to one side, pulling the trucks and couplers up and down causing an imbalance and derailments. Point being, unless I wanted to park this guy at the end of the line forever, I would have to "Open a door" and carefully try and re-glue the weight in proper position. (not a lot of fun for those of us that tediously build these cars!)
Maintenance, maintenance, seasonal or periodic maintenance of locomotives, rolling stock, track and all other components of a layout including sight check of trees (growing) to the point that they can derail locos and or rolling stock, and testing of all electronics, DC or DCC is a never ending must!
I am sure I am missing other potential derailment causes…would enjoy others' thoughts on the subject!
One Response to What Causes Scale Model Trains To Derail