Everything on model trains, model railroads, model railways, locomotives, model train layouts, scenery, wiring, DCC and more. Enjoy the world's best hobby... model railroading!
Recording Data and Inventory of Trains and Accessories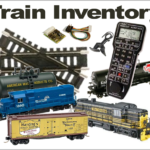 Robin asked:
"I did a few excel spreadsheets when I was employed and thought I should start a record of my growing collection of locos, cars, coupler types etc. I then started to think of all the other things I could record like where I purchased the item, price and date, manufacturer, model number, prototype length in feet, maintenance history, wheels configuration… there's probably no limit if I wanted to go crazy. My question is this – should I use a spread sheet which I could backup on a cloud or portable hard drive, or should I purchase software that will do the job, if so what software? Also, what data should I record and how should I organize it into groups? A lot to ask I know, but I value feedback from anyone who has already made these decisions on where to start and where to finish. Thanks in advance."
Add or view comments below.
12 Responses to Recording Data and Inventory of Trains and Accessories