Everything on model trains, model railroads, model railways, locomotives, model train layouts, scenery, wiring, DCC and more. Enjoy the world's best hobby... model railroading!
Replacing Existing Track on an Older Layout
Steve sent in this question and diagram:
"I am completing a layout started by my father over 50 years ago. He had used Atlas brass code 80 (black ties) flex track on cork roadbed, all nailed down, soldered connections. My redo will model mid-century passenger trains from California through the Rocky Mountains. I would like to replace it with a nickel silver track. The total run length is about 80′ (not counting yards). I have 34′ of Atlas code 55 & 35′ of Peco code 80, both brown tie flex track. Not enough of either to complete the changeover. I like the look of the Atlas 55, but code 80 is stiffer, but ties are farther apart. Which would have more options for matching turnouts?"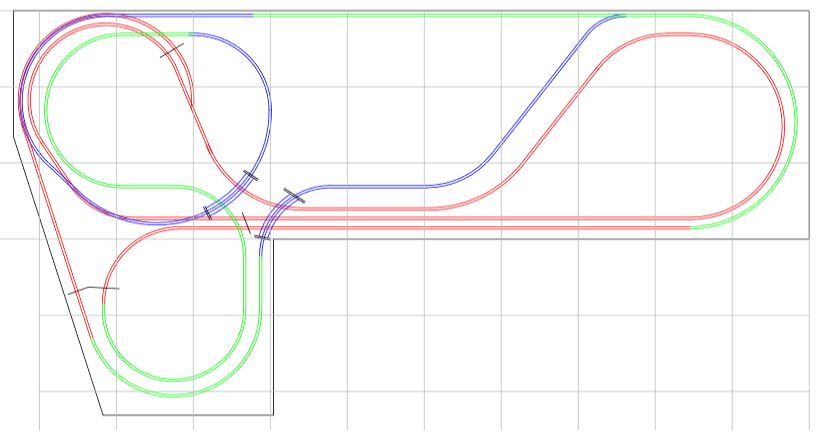 The red is lower track, green is transition grade, blue is upper level. N scale, each square is 1' x 1'.
If you have a question you would like published, then send it in using one of the ASK A QUESTION links. If you want to supply a supporting photo or drawing, then simply mention that when submitting your question. The Blog Moderator will let you know how to email it.
4 Responses to Replacing Existing Track on an Older Layout